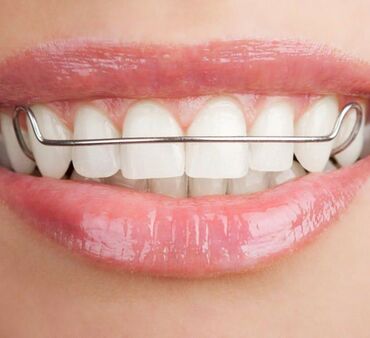 The main reason for the development of bite deformity is the premature removal of milk teeth. The germ of a permanent tooth is still far away and the vacant space may be partially occupied by adjacent milk teeth due to their displacement. To protect your child, it is necessary to massage the gums during dentition, to eliminate bad habits - sucking fingers, nipples, pens, improper swallowing. And, of course - time to treat tooth decay. If you still had to resort to premature removal of the baby tooth, you can prevent bite defects by using replacement therapy. For this purpose, a special plate with an artificial tooth is made.
Вы лучшие в своём деле. Спасибо Вам огромное. Шикарное обслуживание. Отдельная Благодарность Анне Николаевне
Черныченко Ольга Андреевна
2020-04-17
Смело рекомендую клинику людям, которые ценят качество во всем. Атмосфера, профессионализм персонала и отношение к пациенту выше всяких похвал. Результатом лечения моего больного зуба очень доволен.
Хочу сказать человеческое спасибо доктору Арефу за его профессионализм и доброту! уже лет 7 лечим зубы у него всей семьей, хотя пришла сначала с дочкой выровнять прикус!) теперь эта наша стоматология! Спасибо вам за все!)
Анна Васильевна
2019-09-05
Огромная благодарность доктору Арефу за помощь! Личное внимание доктора, оперативное решение вопросов диагностики и лечения при дефиците моего времени. Отдельное спасибо врачу Оксане Александровне. Внимательный персонал, звонок с напоминанием накануне приёма!
Шикарная клиника. Высочайший уровень обслуживания. Продуманно все до мелочей. Никогда не мог подумать, что посещение стоматологической клиники может доставлять положительные эмоции. Рекомендую!
Хотелось отметить, что стоматолог в Одессе здесь лечат больные зубы по приемлемой цене. Также хотелось сказать спасибо за хорошую работу смогли спасти мой больной зубик.